2001-2010 Duramax Fass Titanium Signature Series Lift Pump 95GPH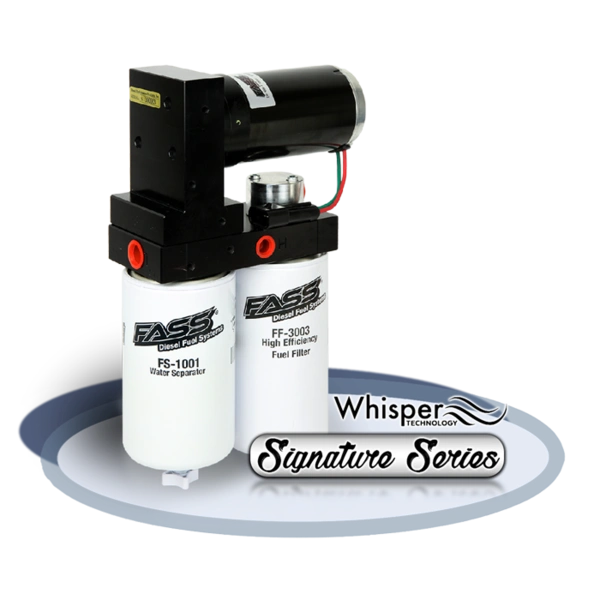 2001-2010 Duramax Fass Titanium Signature Series Lift Pump 95GPH
2001-2010 Duramax 95GPH Titanium Signature Series Lift Pump (TSC10095G)
Fits: 2001-2010 GM w/ 6.6L Duramax
Power Rating: Stock - 600HP
Preset Fuel Pressure: 8-10PSI
Flow Rating: 95GPH
Filter Life Expectancy: 30,000 Miles
Filtration Rating: 3 Micron
Warranty: Limited Lifetime Warranty
The TSC10095G 95 Gallon Per Hour Lift Pump by Fass Fuel Systems is the first upgrade we recommend doing to any Duramax that comes through our shop. The Duramax, unlike other diesel trucks, does not come with a lift pump from the factory. They're designed to use the CP3/CP4 injection pump to pull fuel under vacuum, not only does this put additional stress on your injection pump it also adds runs the risk of having air added into your fuel.
Adding a FASS system will pump the fuel to your CP3 reducing the stress on your injection pump and feeding it better quality fuel will increase the life of your almost all the components in your fuel system.
Features:
New Whisper Technology
New Bolt On Bracket Installation
Complete Full Supply System
Removes Water, Air, and Debris From Diesel Fuel
Fuel Pressure Gauge Port
Protects and Extends The Life Of Your Injectors
Improved Cold Weather Starts
5/8" Suction Lines Fuel Line with ½" Ports & 10 Gauge Electrical Harness
Fuel Mileage Improvement
Decreased EGT's/Exhaust Temps
Improved Fuel Volume Delivery
Smoother Engine Idle
Quietest Motor On The Market
Part Number: TS C10 095G
Note: We highly recommend adding the Fass Bulkhead & Suction Tube Kit (STK-1002) when purchasing a Fass System. It allows your pump to pull more fuel and gives it a convenient return option.