2008-2010 Powerstroke Fass Signature Series Lift Pump 95GPH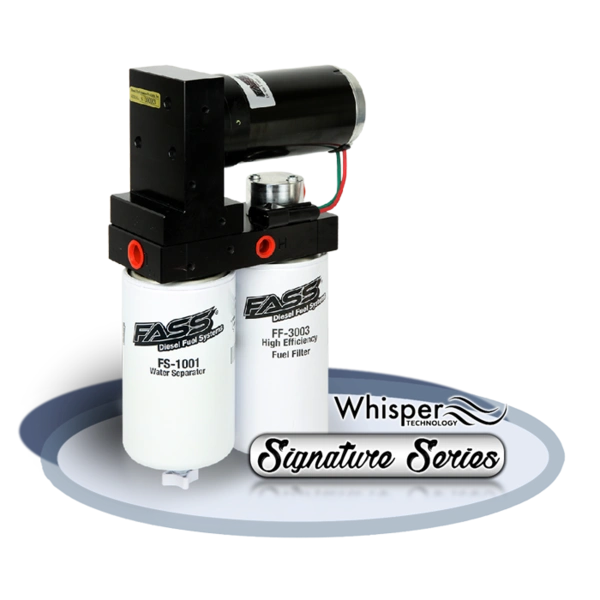 2008-2010 Powerstroke Fass Signature Series Lift Pump 95GPH
2008-2010 Powerstroke 95GPH Signature Series Titanium Lift Pump (TSF16095G)
Fits: 2008-2010 Ford F-Series w/ 6.4L Powerstroke
Power Rating: Stock - 600HP
Preset Fuel Pressure: 10PSI
Flow Rating: 95GPH
Filter Life Expectancy: 30,000 Miles
Filtration Rating: 3 Micron
Warranty: Limited Lifetime Warranty
The TSF16095G Titanium Signature Series diesel fuel system was engineered by FASS Diesel Fuel Systems to be the top performing, longest lasting and most reliable aftermarket filtration system in the diesel industry. Rated at 95 gallons per hour, at 10 PSI and backed by our limited lifetime warranty the Titanium Signature Series fuel system can support your Ford Powerstroke 6.4L diesel with enough fuel for up-to 600HP with enough fuel for multiple fueling system upgrades.
A Titanium Signature Series fuel system also offers advanced filtration benefits that will help protect your Powerstroke's injection systems, effectively extending the life of your Diesel Injectors. These Benefits include an improved filtration rating of 3 Microns, a built-in water separation filter, and FASS Diesel Fuel Systems patented air/vapor removal process. Powerstroke diesel engines are known for having injector failure issues; this can be caused by several different factors and FASS Filtration Systems is designed to eliminate those that are fuel related.
Features:
New Whisper Technology
Complete Replacement Pump
New Bolt On Bracket Installation
Removes Water, Air, and Debris From Diesel Fuel
Protects and Extends The Life Of Your Injectors
Improved Cold Weather Starts
½ Inch Fuel Lines and Ports
Fuel Mileage Improvement
Improved Fuel Volume Delivery
Smoother Engine Idle
Quietest Motor On The Market
The FASS Fuel Systems are important for both daily drivers and high-performance applications when looking to improve engine operation. The added filtration with the removal of air/vapor will greatly enhance the life of your fuel injection system along with improving the horsepower/idle quality/throttle response/fuel economy/lower EGT's & extreme cold weather operations if equipped with FASS fuel heating options.

Part Number:  TS F16 095G