BD Dodge Traction Bar Kit 2003-2018 2500/3500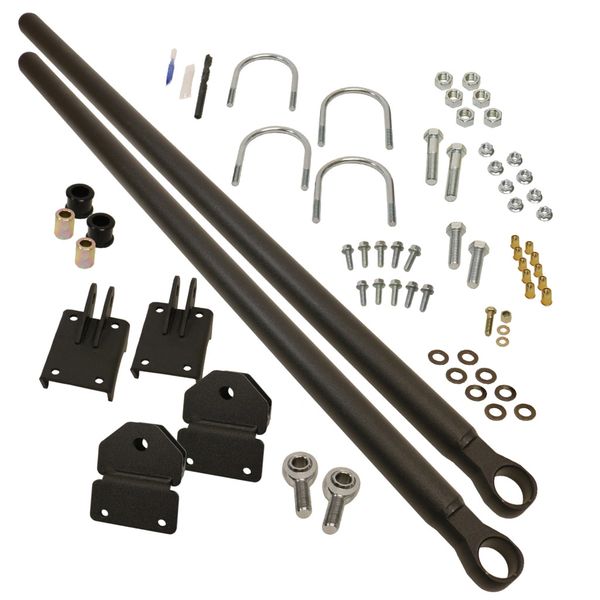 BD Dodge Traction Bar Kit 2003-2018 2500/3500
2013-2018 Cummins Traction Bars Kit (1032130)
Fits: 2003-2018 Dodge Ram 2500 & 3500 w/o OEM Rear Airbags or Rear Coil Springs
The BD Diesel 1032130 is a full traction bar kit for the 5.9L & 6.7L Dodge Ram trucks. The upgraded traction bars will prevent wheel hop, axle wrap, and large angles on the U-joints. They're preset and require no adjustments when pulling or hauling and will fit all Cummins ranging from 6" lifts to 2" drops.
Features:
Bolt-In Installation - No welding required
2-inch OD tube with QA1 3/4-inch heavy duty American 28,000lbs rod ends
Prevents wheel hop, axle wrap and large angles on U-joints
No adjustments needed when pulling or hauling
Designed for trucks ranging from a 6-inch lift all the way to a 2-inch drop
Polyurethane bushings provide direct loading without excessive movement unlike spring loaded designs
Optimized to arc in the same path the axle travels during suspension movement which makes for a smooth ride and the ability to tow without having to adjust the bars
All necessary hardware and Rivet-nut specific drill bit and tool included
54-inch eye-to-eye length
Note: BD Diesel suggests to weld front mounts to frame in heavy duty applications & check aftermarket airbag fitment before purchasing. 
Will not fit on trucks with rear coil springs or rear OEM Airbags .
Please check aftermarket Airbag fitment before purchasing.
Will not fit 2014-2017 Dodge 2500 models equipped with coil sprung rear suspension or OEM air bag suspension
Part Number: 1032130