Duramax Replacement Up Pipes / Turbo Feed Pipes 2001-2015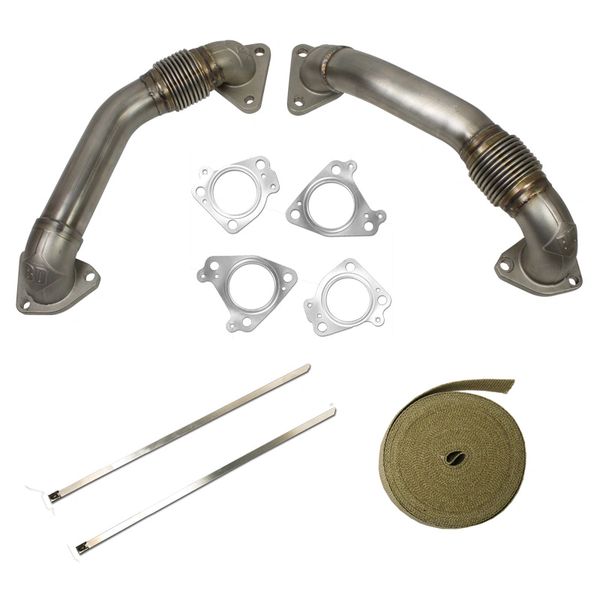 Duramax Replacement Up Pipes / Turbo Feed Pipes 2001-2015
The BD-Power 1043800 Up-Pipe Kit increases both performance and reliability in your 2001-2015 GM 6.6L Duramax. Built from 304 stainless steel, these Up-Pipes feature precision cast mounting flanges that eliminate exhaust tubing blowouts. The 304 stainless tubing also prevents loss of heat energy and does not corrode like aluminized steel or 409 stainless. The larger bore (1.8" ID) internally shielded 304 stainless steel bellows eliminate the restrictive 1.3" OE bellows maximizing exhaust energy to drive your turbocharger. Aftermarket downpipe, tuning and EGR delete required (sold separately).
FEATURES: 
304 Stainless Steel Construction
Increased Turbo Response With Lower EGT's
Smooth Mandrel Bends Improves Exhaust Gas Flow 
Requires Aftermarket downpipe, will not work with OE downpipe (not included). 
Due to clearance issues, downpipe must be modified, or "clearanced" for proper fitment with up-pipes.
Requires tuning and removal of EGR (not included).