Flo-Pro EGR Delete Kit w/ 1/8" NPT Pyro - Ford 2015-16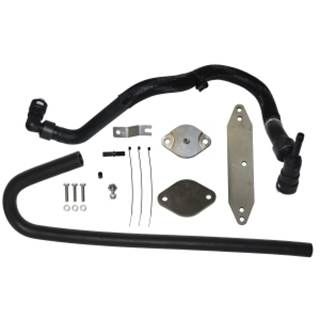 Flo-Pro EGR Delete Kit w/ 1/8" NPT Pyro - Ford 2015-16
Deputy Diesel is pleased to announce the release of FloPro's newest EGR Race Kit for the 2015-2016 Ford Powerstroke. This kit has been engineered to fit the newest diesel 6.7L Powerstroke engine.
Faster lit turbo and lower EGT's
Formed coolant hose won't kink!
Bung threaded for factory pyro sensor.
Includes Motorcraft HVAC heater hose.
Pre-tapped 1/8" NPT plate for easy pyrometer probe installation.
THIS PRODUCT FITS THE FOLLOWING VEHICLES:
2016 - Ford Powerstroke 6.7L F250
2015 - Ford Powerstroke 6.7L F250
2016 - Ford Powerstroke 6.7L F350 (SRW)
2015 - Ford Powerstroke 6.7L F350 (SRW)
2016 - Ford Powerstroke 6.7L F350 (DRW)
2015 - Ford Powerstroke 6.7L F350 (DRW)