SINISTER DIESEL EGR DELETE KIT FOR DODGE CUMMINS 2007.5-2009 6.7L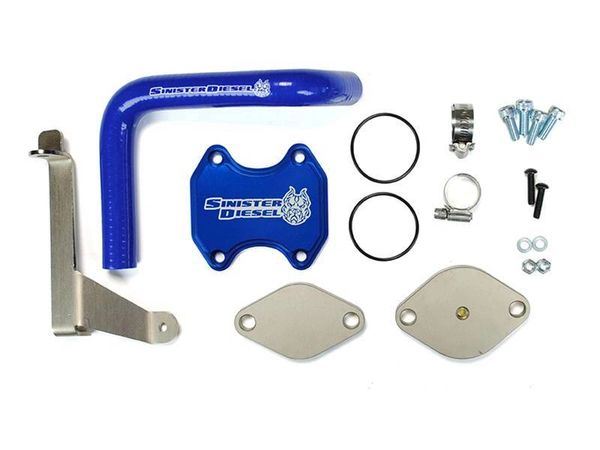 SINISTER DIESEL EGR DELETE KIT FOR DODGE CUMMINS 2007.5-2009 6.7L
**Note: This product is not for sale in the state of California**

Remove your factory EGR with Sinister Diesel's own Exhaust Gas Recirculation (EGR) Delete Kit. This kit completely replaces your old factory EGR giving you quicker turbo spool and lower exhaust gas temperatures (EGTs). This design has been fully pressure tested to ensure you're better protected against leaks! 

If you want a more durable EGR delete, this model is designed for you. The housing of the EGR delete kit has been made out of 304 stainless steel and billet aluminum. This kit has been designed to recirculate coolant faster, giving you lower coolant temperatures than ever before. Using this EGR Delete kit also eliminates exhaust recirculating through your intake manifold for increased reliability. 

Features: 

Construction - 304 Stainless Steel and Billet Aluminum
Product Design - Fully CNC Machined
Performance Notes - Improved exhaust gas flow
Kit Includes - (1) Sinister Diesel EGR Delete Kit with all hardware needed for installation
Special Note - A tuner is needed to prevent Check Engine Light

WARNING, this item can never be installed on any vehicle registered for use on highways or public streets.


FAQ's 

Q: Will this trip my check engine light?
A: The EGR Delete will trip the Check Engine light, so a tuner will be needed to resolve this problem. We have a large variety tuners that will get the job done.
Q: Is there a warranty for this product?
A: Every Sinister Diesel part is manufactured and tested right here at Sinister's California headquarters and comes with the legendary Sinister lifetime warranty.


Special Notes 

** Requires RACE Tuning **